House Democrats Introduce Their Sweeping New Reform Bill
House Democrats unveiled Friday the For the People Act, a comprehensive package of democratic reforms and the first major bill of the 116th Congress. The bill is a sweeping combination of election, campaign finance and ethics reforms designed to make voting easier, curb the power of big donors and reduce conflicts of interest in all…
House Democrats unveiled Friday the For the People Act, a comprehensive package of democratic reforms and the first major bill of the 116th Congress. The bill is a sweeping combination of election, campaign finance and ethics reforms designed to make voting easier, curb the power of big donors and reduce conflicts of interest in all three branches of government.
The For the People Act was the first major legislative action for Democrats after they voted to end the partial government shutdown initiated by President Donald Trump, a measure he is expected to veto.
The package of reforms was put together in a collaborative process initiated by House Speaker Nancy Pelosi (D-Calif.) in 2011 and overseen by Rep. John Sarbanes (D-Md.) since 2017. The party ran in the 2018 midterm elections on a promise to enact these reforms.
"We carried a message of reform, of fighting corruption, of cleaning up Washington," Sarbanes said in introducing the bill on Friday. "We made a promise to the American people. The new members who've come made that promise and made it clear they wanted this to be the first order of business. [This bill] is delivering on that promise."
The reforms in the For the People Act would restore the right to vote to millions of disenfranchised Americans and make it dramatically easier for people to vote while also creating a first-of-its-kind public financing system for House elections. It would also require presidential candidates to disclose 10 years of their tax returns.
The bill shortly will go to three committees ― administration, judiciary and oversight ― for hearings. Democrats hope to pass it through the full House in February.
It will then go to the Senate, where a companion bill will be introduced soon. Senate Majority Leader Mitch McConnell (R-Ky.), a hard-line opponent of campaign finance and election reforms, promised that the bill will not get a vote.
"The American people will know that this is an option that the House has given the Senate of the United States and the president of the United States," Pelosi said on Friday.
Here is what is in the Democrats' big reform bill: (Read the full text here.)
Election Reform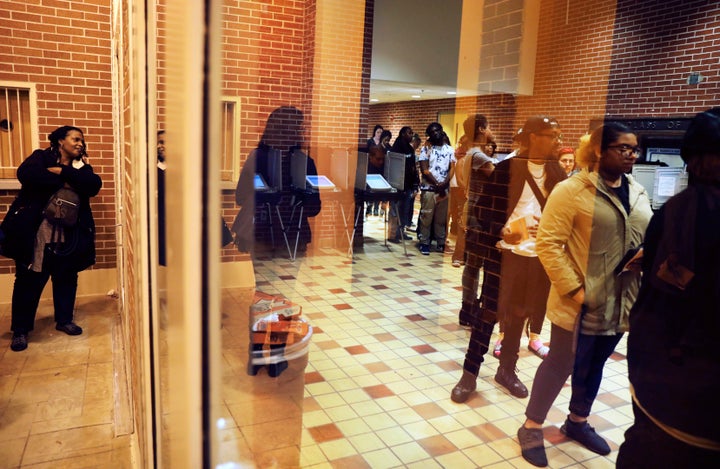 David Goldman/ASSOCIATED PRESS
The reform bill aims to reduce voting problems, such as the long lines seen at polling locations on Election Day, like this one in Fulton County, Georgia, on Nov. 6.
The bill includes a requirement that all states automatically register voters who submit paperwork to a state government agency (unless the person opts out), provide same-day voter registration, allow 15 days of early voting with sites located near public transportation, use nonpartisan redistricting commissions to draw new congressional maps, enable online voter registration, count provisional ballots from eligible voters filed at the wrong polling place and use paper ballots in addition to electronic voting systems.
It would also ban post-release felon disenfranchisement. This means that about 5 million Americans ― a disproportionate number of whom are African-American ― would regain their voting rights once their sentence is completed. The bill would, however, still allow states to disenfranchise felons during their imprisonment.
States would be banned from engaging in voter caging, a process in which election officials purge voter rolls by sending out non-forwardable mail and then removing anyone whose mail is returned to sender. It would not be permissible for states to remove someone from the voter rolls for failing to vote in a previous election. The use of interstate cross-checks to purge voter rolls would also be limited under the legislation.
Election Day would become a federal holiday for 2 million-plus federal workers, and non-government employers would be encouraged to give the day off to private-sector employees, too. Colleges and universities would be designated as voter registration agencies. Absentee ballots would no longer require postage. And the bill would also increase funding to help states update and secure election infrastructure and to the Election Assistance Commission to oversee these updates, with mandated reports on its progress. The Department of Homeland Security would be ordered to deem election systems as critical infrastructure.
Additionally, the bill contains declarations and findings on important issues that Democrats aim to advance in separate legislation. These include findings about the importance of fixing the Voting Rights Act to comply with the Supreme Court's 2013 Shelby v. Holder decision, which gutted a key section of the historic legislation. Rep. Terri Sewell (D-Ala.) will introduce this legislation, which will move on a separate track through the committees. The bill also asserts support for statehood for the District of Columbia, protects Native American voting rights and the right to vote in U.S territories.
Campaign Finance Reform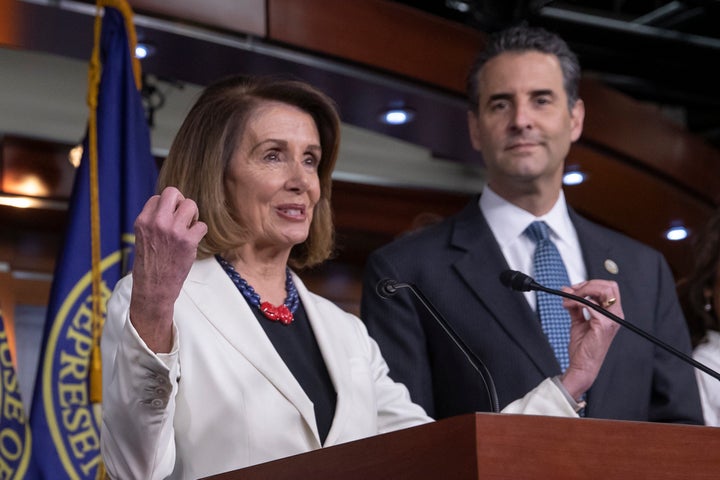 J. Scott Applewhite/ASSOCIATED PRESS
Speaker Nancy Pelosi (D-Calif.) and Rep. John Sarbanes (D-Md.) discuss the For the People Act at a news conference on Nov. 18.
Sarbanes built his reputation as a democracy reform advocate through his work crafting and advocating for legislation to create a system of public financing for congressional elections. The legislative language from his previously introduced bills is the centerpiece of the For the People Act's campaign finance reform section.
The bill creates a public financing system for House elections that provides $6 in public funds for every $1 in funds raised from donations up to $200. Participants in this voluntary public financing system would also be prevented from raising money from large donors. The bill also creates a small-donor matching system for presidential elections. A separate bill covering Senate elections will be introduced by Sen. Tom Udall (D-N.M.).
This small-donor-backed public financing system is based on numerous programs adopted around the country, most notably in New York City. The idea is to create an alternative to the funding from big donors and political action committees that currently dominates politics by making it feasible for more candidates to run on small-donor contributions alone.
The bill also includes the Disclose Act, which mandates that nonprofits and other groups not currently bound by law to reveal donor information must disclose those sources when they contribute to election campaigns. The package's Honest Ads Act requires the disclosure of digital political ads on tech platforms.
The Federal Election Commission would be reconfigured from six members to five to prevent deadlocks on important issues. The agency's civil penalty would be made permanent to prevent future legislative battles over its authority. Coordination between super PACs and candidates would be defined in the legislation and banned. Presidential inauguration committees would be required to disclose expenditures and be banned from spending money on anything not related to the actual inauguration. Previously enacted bans on the Securities and Exchange Commission, the executive branch and the Internal Revenue Service from requiring donor disclosure from corporations, nonprofits and government contractors would be repealed.
Like the election reform section, the campaign finance reform piece of the bill contains findings on issues Democrats would like to address in separate legislation. This includes a declaration that the Constitution should be amended to overturn not just the Supreme Court's 2010 Citizens United decision that empowered corporations, unions and the rich to spend unlimited sums on elections, but also the 1976 Buckley v. Valeo decision that banned Congress from limiting election spending altogether. Additionally, the bill states an intent to ban anonymous shell companies from funding campaigns to prevent the potential for secret foreign money to seep into elections.
Ethics And Lobbying Reform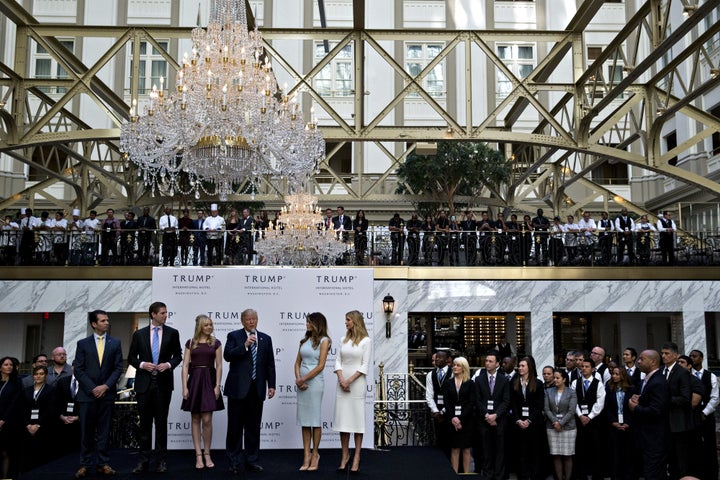 Bloomberg via Getty Images
One provision of the bill would ban presidents from contracting with the government. This would prevent President Donald Trump from leasing government property for his Washington, D.C., hotel.
Every presidential candidate would be required to disclose 10 years worth of tax returns under the bill. The president and the vice president would be required to conduct themselves as though the executive branch's conflict of interest regulations apply to them. Presidential appointees would be required to recuse themselves from any decision in which a party is either the president, the president's spouse or any entity in which the president or their spouse has an interest. The president and vice president would be banned from contracting with the U.S. government ― a provision that would prevent Trump from leasing the Old Post Office Building that houses his D.C. hotel.
The Office of Government Ethics would get new enforcement powers. Ethics waivers issued by OGE must be publicly disclosed. OGE must also come up with regulations to govern potential conflicts of interest that arise from the political contributions appointees previously made and received. Presidents-elect would be required to come up with ethics plans to govern their transitions.
The bill also features new lobbyist and revolving door reforms to reduce government corruption. Lobbyist registration is extended to anyone "counseling in support of lobbying contacts." This means ex-lawmakers acting as "consultants" for lobbyists would finally have to register as lobbyists. Federal contracting officers would be banned from accepting any compensation from a contractor that they awarded a contract to for two years after leaving office. Senior federal officials would be banned from contacting their former agency to influence employees for two years after their service ends. Foreign agents would be required to disclose anything of value given to an officeholder. And corporations would be prohibited from making incentive payments to anyone entering government service.
Supreme Court justices would be required to develop a code of ethics to govern conflicts of interest and recusals. Members of Congress would be banned from using taxpayer funds to settle employment discrimination cases. Lawmakers would be banned from serving on corporate boards and from using their position to help the financial interests of themselves or their immediate families.
Democrats see passage of the For the People Act as necessary to keep the promise that they made in the 2018 election to voters to fix democracy and root out corruption in Washington.
The new House Democratic class that pushed the party into power in the 2018 election ran on a message of reform. More than 100 Democratic candidates, many of whom now sit in Congress, sent a letter to the House in October demanding the first order of business be the passage of campaign finance and electoral reforms.
"This package is really a great place for us to start in keeping all of the promises we made on the campaign trail," freshman Rep. Abigail Spanberger (D-Va.) said.
"The overall message is one that I hope will show voters that Democrats and many Republican allies who join us in this effort are trying to restore faith in the democratic process and in our government," freshman Rep. Tom Malinowski (D-N.J.) added.
This article has been updated to include Sarbanes' comments.
Free Credit Card Numbers with Security Code and Expiration Date 2019
Free credit card numbers with security code and expiration date:
The credit card is the most famous method to make payments nowadays. It has its own merits and demerits. But, getting a credit card is not easy. You must present a stack of documents and you must have a good credit score. This limits the credit card to the rich only. Therefore, many people look for free credit card numbers to use online. This may seem illegal, but many people do it for fun and it actually works. You can use these free credit card numbers with the security code and the expiration date without taking into account the disadvantages of the credit card.
Knowing how to obtain free credit card numbers with security code and expiration date 2019 is useful if you have a low credit score. You do not have to do the paperwork and you do not have to worry about your bad credit rating when you get these cards.
You can use these free credit card numbers without worrying about credit card security problems. However, you can not make any real transactions using these cards. To make transactions, your card must be linked to the database of the provider or the bank. But, still, you can use these cards to get free tests, test your application or anything else that does not include real transactions.
People who have real credit cards become the target of hackers and scammers. They can hack your card information and make transactions from it. This is a major security concern with credit cards. When using free credit card numbers, you do not have to worry about this problem.
What are the concepts: credit card number, security code and expiration date 2019?
First, we will discuss the basic details of the credit card. This will help you use them. The credit card does not only have to do with your number, but other details are also important to make the transaction.
Compared to debit cards, credit cards are better. There are several reasons for this, but the most important is that you can pay your bills later. You do not have to worry if you have enough money or not in your account. You can use your credit card without any worries and pay at the end of the month when you receive your salary.
All credit cards have a credit limit. You can use your credit card without any worries until you reach your credit limit. You can reset it by paying the pending invoice of your credit card. This credit limit also depends on your credit score. This makes it difficult for people with a low credit score to obtain a real credit card number.
Even so, the credit card is considered the superior method of making payments. It is very easy to make transactions with them. After all, only free credit card numbers are generated. You can pay your bill in installments instead of paying it once as in debit cards or PayPal.
Active Working Free Credit Card Numbers with Security Code and Expiration Date 2019
Type of card: Visa
Card number: 4551 0564 8393 6475
CVV: 323
Expiration: 05/2023
Name: Melina J. Sanford
Type of card: MasterCard
Card number: 5360 8495 3456 1278
CVV2: 2532
Expiration: 02/2020
Name: John S. Chasse
Type of card: Visa
Card number: 4937 9450 8863 1245
CVV2: 201
Expiration: 11/2020
Name: Mark Wise
Type of card: MasterCard
Card number: 5123 4896 4354 5543
CVV2: 814
Expiration: 12/2020
Name: Juanita S. Kirkland
Type of card: MasterCard
Card number: 5519 5678 4536 4210
CVV2: 745
Expiration: 04/2023
Name: Michelle J. McGaughey
Type of card: Visa
Card number: 4420 6453 4565 1164
CVV2: 236
Expiration: 03/2020
Name: Jennifer J. Williams
Most people try the online credit card generator tools to get a working credit card that they can use for free. They believe in all the false promises of the credit card generator tools and believe that they can use these cards online. However, you can not even use these cards online to get free trials because they do not have a security code or an expiration date.
First, let's talk about the security code or CVV and the expiration date. The security code is a security feature added by banks to make sure that no one is misusing their credit card. It is printed on the back of your credit card and is usually a 3-digit numeric code. You should never share it with anyone until you want them to use your card.
The expiration date is written on the front of your card and consists only of the month and the year. Each card has this date and you have to change it with a new one before the expiration date. Make sure you know the expiration date of your credit card to be able to replace it at the correct time. The expiration date is also used to verify your transactions online whether it is legitimate or not, so it is important to know.
If you want your fake card to be of some use, make sure you also have a security code. Most fake credit card generators can generate this data and also generate more data. They make sure that the generated card looks like a real card.
How to get free credit card numbers with security code and expiration date 2019?
Now that you understand the importance of the Security Code and the Due Date, we will inform you how to generate free credit card numbers. Below are some methods that you can try to get free credit card numbers.
The use of the credit card generator.
Credit card generators are the most famous method for generating free credit card numbers. There are a number of free tools available to do this task. Make sure you use only free generators. If a paid generator declares that it can generate a real credit card number and ask for money, then it is false.
Some of these generators only generate a credit card number that is useless to us. Do your own research and find a credit card generator that can generate fake credit card numbers with security code and other information.
These free tools use a banking algorithm to generate fake credit card numbers. Each bank has its own algorithm to generate credit card numbers that comply with government regulations. To deal with this, these tools also write their own algorithm to make sure the card number looks legitimate.
After finding the perfect tool for you to download and run it on your computer. You can select the type of card on the first page. After that, you have to select the issuer of the card and that's it. It will take some time to generate a fake credit card number.
You will get information like a real credit card. You will have all the information such as the card number, the name of the cardholder, the expiration date, and the security code. All these data are false and are generated, so you can use them only to get free online trials. You can not use this card to make real transactions online.
Get it through a bank:
The first place where you can go to obtain a credit card is to a legitimate issuer. These include bank and credit card union. All other sources depend on the bank, so the bank is the most famous place where people will get a credit card.
You may think that the way to obtain these credit card numbers for free is from the official issuer. The credit card number is very confidential information and the banks never share it in public. But, you can get some of these numbers because banks have to test your payment system. They want to test their payment system and, therefore, publicly publish fake credit card numbers that are used for testing.
All these cards contain all the details such as the name of the cardholder, the credit card number and other details found on a real card. In this way, you can also obtain free credit card numbers and thus help the payment system of the credit card issuer.
However, all these fake cards cannot be used to make transactions online. You could think that they are useless. But, even these fake cards have some important uses. You can use these free credit card numbers to get free trial accounts and skip verification. We are going to discuss them shortly now.
Free tests:
Most services and software provide a free trial account for one month. Even large websites like Netflix offer a free one-month trial account. To activate these accounts you need to enter the information of the credit card.
Your card is not charged so it is possible to use fake credit cards. Also, if you want to verify if the website is a scam or not, you can use these fake cards to verify before using your actual credit card.
Fake cc:
For some services and software, you can actually ignore the verification using fake credit cards. You can use your service for life but without paying anything. This is better than getting free tests because in free trials you need to create a new account each time your test expires. Avoiding verification will save a lot of time.
It has never been as easy to get endorsed for a bike credit.
It doesn't make a difference whether you have a past filled with horrible credit or whether you have been in chapter 11 as of late, you likely feel that you have positively no possibility to get a motorbike advance and that it will be by unthinkable!
Well, fortunately, moneylenders are changing their procedures for bike and an automobile advance so now is your opportunity to check whether you can exploit these uncommon changes!
Online organizations and loan specialists furnish online cruiser and auto purchasers with money without going into an inside and out a credit report.
With awful Credit Can You Get a Motorbike Right Now?
Indeed! Regardless of whether you have terrible credit or no credit at all and you wish to buy any cruiser, so what. You can go underneath and basically fill in the no credit check 60 Second online car advances application and check whether you qualify. It is that basic. Best of all there are no costs, the advance applications are free, and you are under positively no commitment to take a money cruiser quote.
Most online organizations will endeavor to enable you to be in your new or utilized vehicle inside a couple of days and regardless of whether you have past awful credit or insolvency issues.
What is involved with Finance Motorcycle Quotes Online?
With online organizations, it is very basic for you to apply for vehicle advances Once you land at the application you will be asked to quickly fill in a short structure which takes around 2-3 minutes to check whether you are endorsed for financing.
At times you will get a moment endorsement statement of the amount you're qualified to have lent to you regardless of whether you have awful credit or none by any means.
When you have taken a couple of minutes to finish the application online you will at that point be advised promptly of the result. You might be totally amazed at what the outcomes might be.
Keep in mind, since you have awful credit you should continue hunting down considerably more account bike sites on the web. You should analyze at least three vehicle credit cites so you get the best motorbike advance rate and most reduced regularly scheduled installment plan.
When you secure a cruiser advance you like, you would then be able to go to the merchant and buy a bicycle as though you have money. This permits you to arrange the most minimal cost on the vehicle you need at the most ideal rate.
Many fund bikes cites offer low loan costs that can even be significantly less than what you would pay at a bank. There are effectively available specialists that are online presently prepared to help you through the whole credit process.
Do You Qualify?
Snap beneath to round out the 60 Second online application. Try not to pass up a major opportunity basically in light of the fact that you figure you won't be affirmed! Commonly when you complete the applications online you will be told inside minutes and get a quick reaction. At that point, you will get guidelines on the best way to go ahead.
It generally looks at least three car advance statements on the web. Obviously, doing it online is particularly less demanding to since you don't need to leave your home or office to discover them.
When you get your endorsement you will have a vastly improved thought with respect to what your choices are for a bike, how you can reimburse the cash and what your installments will be.
The web has made it exceptionally simple for anybody with great or awful credit to discover advances, not on the web. Pick the most minimal and set aside some cash today!
Go to motorbike finance to see which advances are accessible for you! On the off chance that you fit the bill for a credit, you will be reached right away.
10 ways to save money as a student
When you are a university student, this type of responsibility does not seem significant, either because you are still dependent on your parents or because there is no reason to save you. However, it is important that you know that saving opens the doors to adapt to the management of your own economy and teaches you not to waste your money on unnecessary things to take advantage of what is truly special and necessary for you. 
Believe it or not, it is possible to save money when you are a student. It is not an impossible task! You should only use it with intelligence, thinking that saving is what you contribute for future generations. In the end we all want a country with better opportunities. In this article i will share how to save for college tuition fund.
1. Plan your budget
Make a list of daily expenses in which you prioritize your needs: transportation, food, etc. Currently there are several apps that allow you to keep track of your expenses, such as Fintonic and Splitwise, completely free and available for iOS and Android.
The majority of college students live alone, therefore, saving for college is essantial to minimize your expenses, you can share a department with a partner and thus divide the budget destined to the purchase of food or the payment of basic services.
3. Save a percentage of your money
Adopt a savings program from your preferred bank or keep it in a piggy bank or in a safe place in your home, where you can not use it until it is extremely necessary.
4. Motivate yourself
Set yourself a goal or goal that you really want to achieve. A great motivation can be to save money to travel with your friends or to enroll in a university to pursue the career or master of your dreams.
5. Mobilize effectively
Save money using your city's public transportation or transportation from your university, if you have one. If your city is small or your place of study is close you can walk or use your bike.
6. Avoid unnecessary expenses
Do not fall into compulsive purchases so you do not spend on things that you will not use periodically in your life.
7. Open a savings account
Many times carry money in your wallet, purse or backpack, only encourages you to spend on unnecessary things. To avoid this you can save your money in a bank and only carry a small amount in cash for daily expenses.
8. Recycle
Reuse your notebooks, pencils or things that you use for your study, so you will reduce the purchase of all this.
9. Look for an alternate way to earn extra money
You can take risks and undertake some innovative idea as a result of your academic learning or your hobbies and passions. If you study in a face-to-face mode, a good option is to work on your free time.
10. Take advantage of your student benefits
Your student card can give you the possibility of having discounts in some places, like in the movies or in restaurants.
Cheer up! Accept these recommendations and insurance when you realize you will have the money you need to study, build a house, buy a car or travel the world. All up to you.